26-kilometer-long corridor that extends from Chamkani area to Hayatabad will be much beneficial for daily commuters
Provencial Capital of Khyber Pakhtunkhwa – Peshawar is likely to open its first Bus-Rapid-Transit (BRT) line in April, which will offer its 1.9 million residents an affordable and flexible alternative for travelling.
Bus-Rapid-Transit Peshawar's first phase will consist of an east-west busway which will stretch from Chamkani in the east end to Hayatabad in the west end of Peshawar and 26-kilometer-long corridor.
The system will have 31 stations and will be mostly at grade, with four kilometres of elevated sections and 3 elevated stations. The line will also contain 3.5 kilometres of underpasses. The entire busway will be fenced to prevent unauthorized pedestrian crossings and to prevent vehicular traffic from entering.
The project has been divided into three phases, Chamkani to Soekarno Chowk, Soekarno Chowk to Aman Chowk and Aman Chowk to Hayatabad. Construction on all three phases is ongoing simultaneously.
About 383 big and small buses from feeding area would be plying to the main route and commercial area and one nine-story plaza with parking and two three-story parking plazas are also additional features of this project.
As per the blueprints, stations at the Chamkani, Dabgari and Hayatabad area will open up for shops and provide plenty of parking space in case passengers want to leave their cars in the parking lot.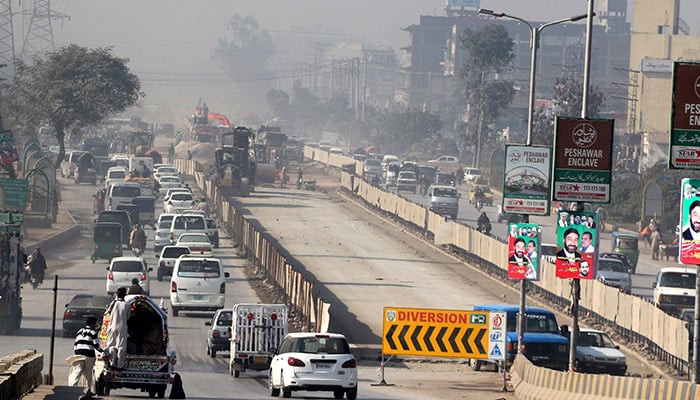 According to expert opinion If execution of the project starts by mid-April 2017, the project is expected to be completed by January 2018.
The construction of the Metro will be done in phases. The first phase of the construction includes the Chamkani-Balahisar track. The Cantt-Aman Chowk track will be completed in the second phase and the track that is leading towards the Phase-III in Hayatabad will finally be completed in the third phase of the construction.
The Peshawar RBT project would not only resolve the agonizing problem of traffic congestion in the provincial capital, it would also give a much-needed facelift to the terrorism-torn provincial capital.
The Rs49 billion project was initiated in October last year. Since then, work has been progressing at breakneck speed. Dedicated bus lanes and stations are being constructed around the city on a corridor that extends over 26 kilometres from the Chamkani area to Hayatabad.
The Asian Development Bank has loaned Rs. 42 billion for Peshawar BRT, while the Khyber Pakhtunkhwa government is bearing the rest of the cost (Rs. 7 billion) itself.